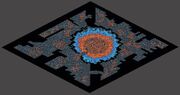 The Dungeon IV is accessible from Dungeon III. There are several campfires along the dungeon and a little outpost in the East with a chest, an anvil, a furnace, a campfire and a well.
Check also all the Locations.
Entrances
Edit
From Dungeon IV, there are 3 entrances to Dungeon III. The first, which is the main entrance is in the North-West. At the South near the inner circle, there is another entrance which lead you to the citadel of the Dungeon III. The third entrance is at center of the map, the base of the Titan Minotaur which will lead you to the lava-nest of the Blood Eagle in Dungeon III.
Monsters Edit
Check the entire Monster list.
Ad blocker interference detected!
Wikia is a free-to-use site that makes money from advertising. We have a modified experience for viewers using ad blockers

Wikia is not accessible if you've made further modifications. Remove the custom ad blocker rule(s) and the page will load as expected.