Nature Tower is located in Void I land. It is the easiest of the three towers, Ice Tower being medium difficulty and Fire Tower being the hardest. Completing each room gains you 400 experience points towards your Fighting Mode stance. If you use arrows to kill the mob, Archery skill gets the bonus. There are 44 (Elite) mob rooms and Gate is in room 45. Like Cathedral, all of your items are safe when you die.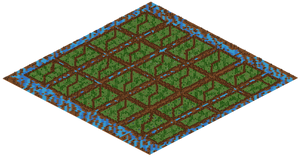 It is recommended you have base combat stats in the 70s, with appropriate gear.
The total amount of HP for all mobs excluding Gate is 108,180. Assuming a combat stance other than Cordial, finishing Nature Tower will grant you a total of 350,540 combat experience for your current stance. This includes the 400 bonus experience per room.
Ad blocker interference detected!
Wikia is a free-to-use site that makes money from advertising. We have a modified experience for viewers using ad blockers

Wikia is not accessible if you've made further modifications. Remove the custom ad blocker rule(s) and the page will load as expected.