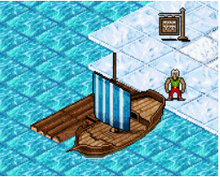 A ship lets you visit other players islands, if they have one, to just look around or get ideas for your island. No experience is gained by using your boat. Adding materials to your boat adds to the Carpentry Skill so it is most beneficial to add them during a 2x event.
To build your Ship, Open Build Menu on your island then select Buildings from the headings. The following is a list of all the materials you will need to build your Ship.
| | | | |
| --- | --- | --- | --- |
| | 300 Fir Logs | | 50 Maple Logs |
| | 150 Cactus Logs | | 25 Spirit Logs |
| | 100 Oak Logs | | 50 Cotton Fabric |
| | 75 Willow Logs | | 30 Bamboo Fabric |
You may also spend 20 MOS at each stage of the build if you choose not to use the materials, which requires 45 woodcutting and 20 farming.
When your Ship is complete it will be sitting at your islands' dock. To use it, step on to the ship and enter the name of the player whose island you want to go to. Use the Traveler's Sign to exit any island you are on.
Ad blocker interference detected!
Wikia is a free-to-use site that makes money from advertising. We have a modified experience for viewers using ad blockers

Wikia is not accessible if you've made further modifications. Remove the custom ad blocker rule(s) and the page will load as expected.